30 November 2021
A Curious Mind – Discovery Through Photography with Sarah Pannell
Curiosity spurs Pannell to travel as often as she can to where she can observe and explore shifting cultures and changing spaces. This fascination with humans' ever-evolving dance with their surrounding environments has led to an array of projects focussing on everyday life, preservation of traditions and communities around the world. Sarah's soft and human gaze aims to diffuse and enrich perspectives of cultures and societies that are often overwhelmingly shrouded in negativity by outside eyes.
"My work in Iran is still kind of a work in progress, in that I'm still shooting there and developing a longer-term body of work. Tabriz to Shiraz is the first chapter."
Words: Olivia Hides
Images: Sarah Pannell
Melbourne-based photographer Sarah Pannell explores culture and community through a distinctive and innovative perspective. Driven by an innate curiosity and a desire to explore, Sarah documents her fascination with the everyday, working to expose what lies beneath our interactions with the ordinary. Her photography is interested in uncovering and enriching experience, offering insights into the preservation of traditions and glimpses into communities from all around the globe.

Her inherent interest in photography began early on. "I always took photos during my school years," Sarah says, "but it really only developed when I was 19, and I was doing a uni semester abroad in The Netherlands. I was travelling around Europe and found myself enjoying taking a lot of photos." It took time, however, for Sarah to unearth her personal style – experimenting with equipment, camerawork and observing what suited her individual direction. "I found it's all about just giving different things a go and being prepared for failure and rejection." In this vein, Sarah's style has grown in a way that she describes as organic. "As I change and mature, I think my perspective and stylistic choices also shift," she muses. "I've slowed down a bit and perhaps to my detriment in that I'm finding it hard to finish things at the moment, but I'm just trying to take my time with things and not to force anything."
"As I change and mature, I think my perspective and stylistic choices also shift."
Sarah's work is primarily informed by her travels, which in turn allows her to observe and explore space and culture in a refreshing and poised outlook. In fact, it is her background in historical, social and geopolitical spheres that informs her voyages – "I read and research and imagine what I could photograph in a certain place or establish an angle for a story. While it involves preparation and planning, I also take a lot in my stride and go with my intuition at the time," she says.
When quizzed on her most memorable assignment, Sarah notes, "So far, probably my trip to Egypt in 2018, which was commissioned by British Journal of Photography." Having nearly a month to shoot and travel, Sarah's time there shone a light on her capabilities and the dynamic boundaries she could push. "It was a truly incredible experience, which really challenged me," she reflects.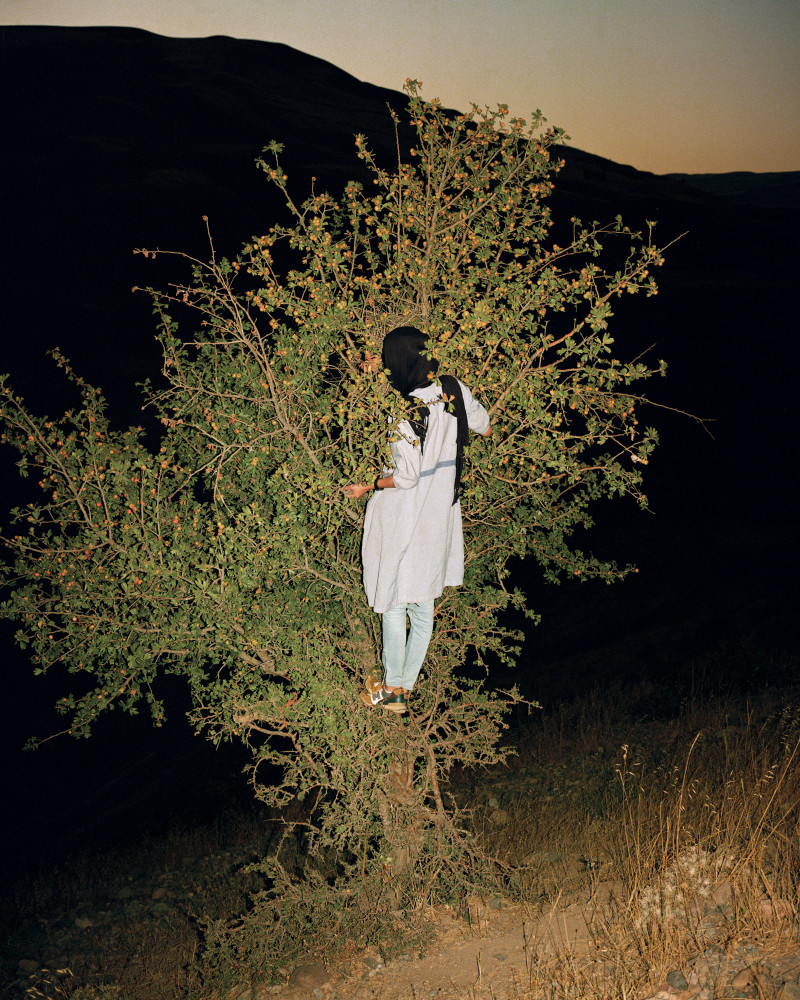 What is clear, however, is Sarah's desire to seek out the unexpected through personal and profound exploration, maintaining a powerful ability to uniquely question and discover.
What is evident throughout Sarah's work is an internal curiosity that endures; this motivation can be traced throughout Sarah's book Tabriz to Shiraz. "I went [to Iran] initially in 2016, with a narrative in mind, which explores the concept of hospitality in Iranian culture," Sarah explains, "and since that point, it's slowly developed into something more intimate and nuanced." One of the hardest artistic choices Sarah faced was knowing what to include within the final pages. "And what to leave out," she notes. Luckily, having the opportunity to continue her work allowed Sarah to be more selective in what images she chose, knowing that she could use other successful photographs in future publications as well. "My work in Iran is still kind of a work in progress, in that I'm still shooting there and developing a longer-term body of work," she says. "Tabriz to Shiraz is the first chapter."
When reflecting on her time within the industry, Sarah mentions the positive influence of Women Photograph. "I joined early on when WP first was founded and I find it to be a great resource of like minded photographers who are able to help one another out in a challenging industry." In 2017, Sarah took part in a weekend workshop in New York City; "It's a great network to a be a part of and to learn from," she says. Sarah also notes of some of her current influences, which include Nanna Heitmann, Vasantha Yogananthan, Katrin Koenning, Sina Shiri and more. "And many good friends of mine who are amazing photographers and inspire me every day."